Volcano Magic retreat to Guatemala Feb 10 – 16, 2018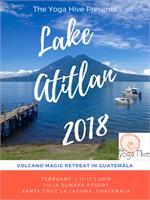 February 10 – 16, 2018
Surrounded by three dormant volcanoes, Lake Atitlán is believed by the Maya to be the center of the universe where God's seeds of mankind evolved. There are 12 villages around the lake. Each village has its own distinctive style, revealed through the traditional dress of the women.
We are staying at
Villa Sumaya
(
http://villasumaya.com/
), a gorgeous property located in Santa Cruz la Laguna on the shores of Lake Atitlán. Arrive by boat from Panajachel to the private dock at Villa Sumaya. The property has a pool, solar heated hot tub, a spa and a gorgeous yoga shala. A wood burning sauna can be reserved for a small fee.
Included in this wild adventure are three vegetarian meals a day, two yoga classes per day in the lakefront Blue Tiger Temple, yoga props are provided, unlimited tea, coffee and water, a traditional Mayan fire ceremony and all taxes.
Cafe Sumaya Sol sells green goddess exotic juice, wine, beer, cocktails and has raw organic snack bar.
What to see and do:
Lake Atitlan is an incredible venue for seeing some of mother nature's most breathtaking views. Whether you are climbing San Pedro, the tallest of the three volcanos or kayaking towards a quaint village, you will be awed by the sheer magnificence of this high plane tropical paradise. The concierge on site and help you plan: Ziplining, Hikes from Villa Sumaya, San Pedro Volcano climb, Pico del Cielo hike
Shopping in Panajachel, Coffee tour, Guided village tours of Santiago, San Juan, Santa Catarina, San Antonio, & Chichicastenango
Accommodations
We invite you to visit the website to view the room types prior to booking. All are gorgeous and immaculate.
Maya Rose Rooms 2-7: All rooms include sensational lake view patios.
Single: $1430
Double: $1160 per person
Skyline Bungalows Rooms 9, 10 & 20: Cozy, handcrafted rooms with unique charm and gorgeous views.
Single: $1430
Double: $1160 per person
Ginger Suites Rooms 17, 19 & 21: luxury accommodations varying in size. All the rooms have majestic lake view balconies and elegant antique furnishings.
Single: $1580
Double: $1340 per person
The retreat begins Saturday Feb 10 with dinner and ends Friday Feb 16 with breakfast (and yoga if time allows).
Transportation is not included in the pricing above. HOWEVER, if you would like for us to plan your transportation – and travel with you – from the time you land in Guatemala City, to when you leave Guatemala City, we are offering a $200 transit fare that will include:
Hotel lodging Friday night Feb 9 to Saturday Feb 10 in Guatemala City,
A private van where we will travel together to Panajachel
Boat ride to the Villa Sumaya dock.
To return, only your boat ride and shuttle directly to the airport will be included. Not included are taxi rides from GC to the hotel.
Tips for registering:
Email us with your room preference, especially if you want to confirm that your top picks are still available. They will be assigned after we receive your nonrefundable $500 deposit. To check out, select your room type and then click "payment plan." Select: "volcano magic nonrefundable deposit" and click "add item." If you are adding the ground transit option, go back to services and select "retreat." and then select the "Ground Transportation" option. Balances will be due by November 30, 2017.
For the adventurous, we recommend adding Antigua, Semuc Champey, Tikal, Quetzaltenango, and the Chichicastenango Market to extend your trip.
Both Kimberly & Julie have stayed at Lake Atitlan, so if you have questions, check in with us! This is one of the most gorgeous places we have ever been.
We hope you will adventure with us on this magical yoga journey.